Take a look in the classifieds and from time to time you will see a 1982 TR7/8 for sale, strange when you consider the last TR7/8 was built in October 1981. So did 1982 cars exist? well many were left over in dealer showrooms and then registered a year or two later when they were eventually sold hence the 1982 TR7's you see for sale, however all would have been 1981 model year cars – note I said model year and not calendar year. The model year for the TR7/8 generally applied September to September, so if the 1981 model year ended in September 1981 and production ceased in October 1981 there could potentially be some 1982 model year cars.
See Canadian newspaper advert below for both 1982 TR7 and 8's "final edition". Note the 1981 Spitfire below.
There were in actual fact 70 x 1982 model year TR8's built along with approximately 130 1982 year 7's (All Canadian spec)
1982 Model Year TR8 See Build Card
1982 Model Year TR7 notice the tan velour interior normally an extra on TR7's.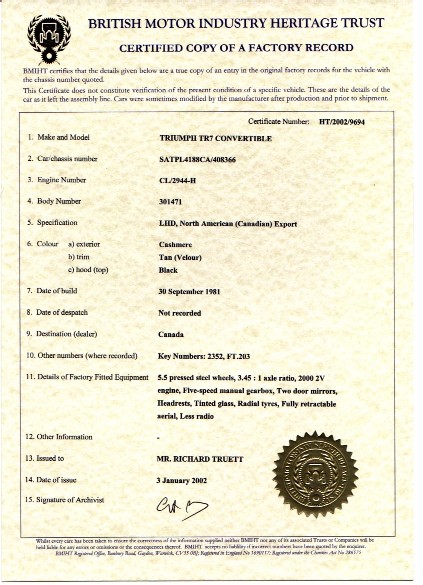 As I have only been able to verify the model differences on 1982 model TR8's the following applies to them but may also apply to the 82 TR7's.
Exclusive Features:
Only the 1982 models had a "C" in the VIN number which designates the 1982 Model Year. Please see table below for breakdown of chassis indicators and position of the "C" denoting 82 model year Solihull 1981 built cars.
Solihull 1981/82 ModelYear Cars
1. Continent: S Europe
2. Country: A U.K.
3. Manufacture: T Triumph
4. Model range: P TR7/8
5. Specification:
V U.S.A., (49 states)
Z U.S.A., California
L Canada
6. Type of body:
5 Coupe
4 Convertible
7. Type of engine:
1 2 litre four cylinder
5 3.5 litre V8
8. Steering and Transmission
4 LHD,Automatic
8 LHD,Manual 5spd
9. Check Digit: 0 to 9 or X for 10
10. Major model
A 1980Model Year
B 1981 Model Year
C 1982 Model Year
11. Assembly plant: A Solihull
All 1982 model TR8's have a cooling scoop from under the front bumper to the starter.
None had the wreath above the 3.5 badge on the front wings (this may have been due to a shortage of wreath decals towards the end of production).
All were built between August 21st and October 10th and came in one of three colours Silver Leaf, Champagne, or Cashmere Gold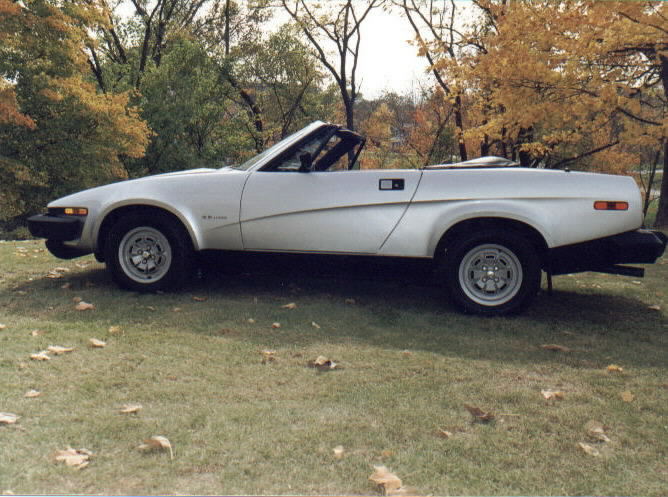 Some of the 1982 models had the door panel cloth inset ribs running horizontally instead of vertically. (The last three TR8's – 1981 model year – produced also have this door panel)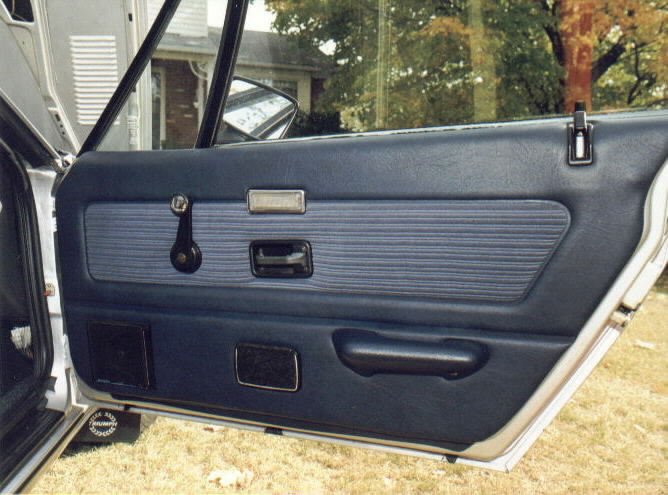 All the 1982 model TR8's had speedometers in KPH.
The odometer and trip gauge were reversed on all 1982 models.
1982 features phased in with the very late 1981 models include:
The 82 dash had idiot lights in pictographs, not words. This began with the late 81 cars as a combination of words and pictographs culminating in all pictographs in the very late 81's.
All have either Blue or Tan velour interiors along with square door locks and push button boot lids.
The speedometer had an extra digit and will register 100,000 miles plus.
Very late 81 models and the 82's have the reset for the clock and odometer through the plastic gauge cover.
Pictographs were added to all gauges and a Quartz clock with push button was also added.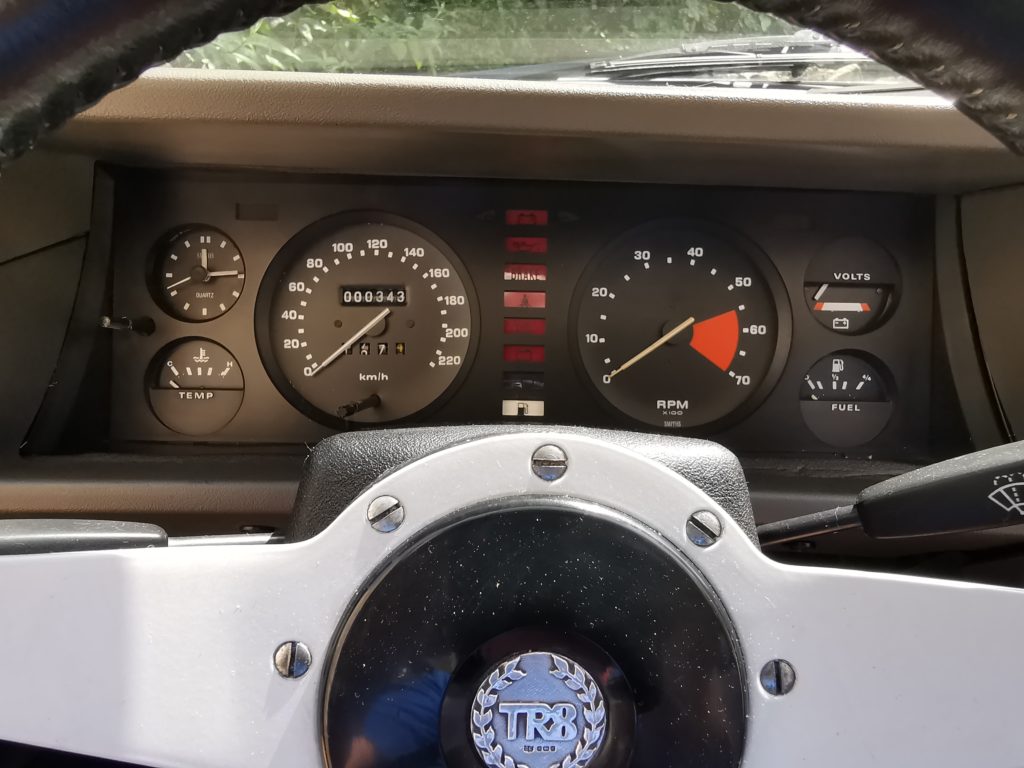 1982 options
These wheel covers were offered as an option on late 81/82 cars. The wheel cover caries a JRT (Jaguar-Rover-Triumph) part number not a BL one.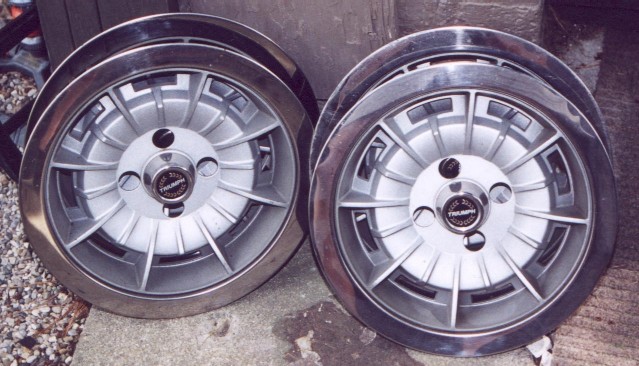 Summary
The reason all 82 models are Canadian spec cars may have had something to do with the more lenient type approval/ emissions laws in place at the time. Or maybe it helped to sell them, New Model 82 etc.
Exactly 70 x 1982 Canadian Spec TR8 models were built along with approximately 130 1982 Canadian Spec TR7's, whether the air scoop and other features found on these cars would have been rolled out to other geographical spec cars is now almost impossible to tell – suffice to say Triumph did build both a 1982 model year TR8 and TR7 but not a 1982 calendar year TR7/8!